All Around Color with the New Solo Stove Metallic Series
Nov 7, 2023
In our busy lives, finding moments of peace and positivity is essential. One way to achieve this is by creating harmonious and positive outdoor spaces, and Solo Stove's new Metallic Series is the perfect tool to help you do just that. From the choice of colors inspired by the outdoors to the careful selection of materials and designs, we'll explore how you can harness positive energy with these beautiful additions to your outdoor living space.
Materials and Design
Solo Stove's Metallic Fire Pits aren't just a feast for the eyes; they're built to stand the test of time. What sets them apart is the high-heat ceramic coating that not only enhances their durability but also ensures they won't discolor due to the intense heat emitted by the fire pit. This coating is easy to clean with a damp towel once the fire pit has cooled down.
To give the coating that extra pop, it's infused with the perfect blend of metallic flake. As a result, these fire pits have a semi-gloss finish that's simply captivating. This metallic flake effect not only adds to the aesthetics but also helps catch and reflect light, much like the shimmer of metallic car paint.
Harmony in Hues
The first step in creating a positive outdoor space is choosing the right colors, which is why Solo Stove has taken inspiration from the outdoors for the new Metallic Series Fire Pits. These fire pits come in three stunning colors:
Cascade's rich emerald green color speaks to nature, particularly the lush forests and majestic flora of the Pacific Northwest. Green is associated with balance and harmony, making the Cascade an excellent choice for creating a serene and positive outdoor environment.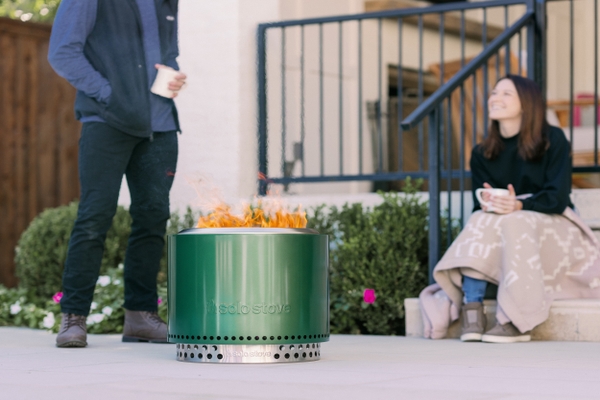 Gunmetal, on the other hand, is dark and rich, resembling a rare stone that has been polished to perfection. Its deep, shimmery surface exudes a sense of elegance, making it a showstopper that can inspire deep conversations around the fire pit.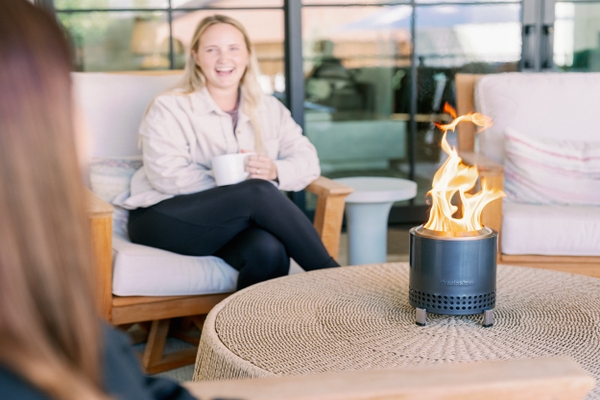 Bronze, with its earthy tones of bark, soil, and minerals, results in a hue that is perfectly accented by the blazing flame of orange and red. Bronze is a color that represents stability and grounding, making it a great choice to promote a sense of security and well-being.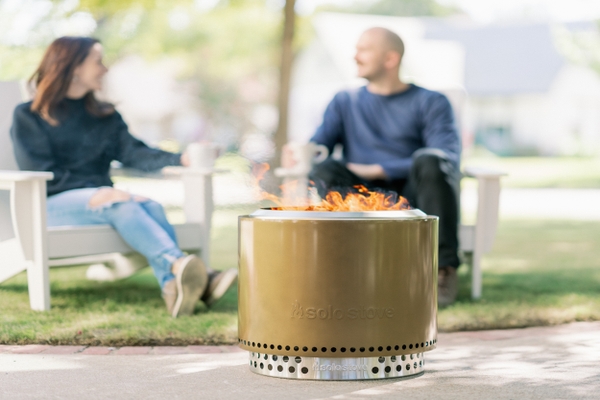 The Metallic Color Series fire pits have a subtle sparkle, which adds an extra touch of charm to your outdoor space. With various sizes available, including Mesa, Mesa XL, Bonfire, and Yukon, you can choose the one that best suits your space and needs.
Set the Tone
Creating balance and harmony in your outdoor space is essential. Arrange your seating, plants, and décor in a way that complements the fire pit's design and color. You can also add some personal touches, like cozy blankets and cushions, to make the space inviting and comfortable. Remember, it's not just about the aesthetics; it's about the overall experience.
Embrace the Positive Vibes
In a world filled with hustle and bustle, finding moments of positivity and serenity in your outdoor space is a valuable escape. Solo Stove's new Metallic Fire Pits in the Cascade, Gunmetal, and Bronze colors, in various sizes, offer an excellent starting point for creating a harmonious outdoor environment.
By carefully choosing your colors, location, and design, you can harness the positive energy these fire pits bring and create memorable moments around the fire, where connections and conversations flourish. So, go ahead and light up your new Metallic Fire Pit, and let the flames of positivity and harmony dance around you.